At Dr. McSurdy's office, not only will you receive the highest quality of care from the top orthodontists in the greater Philadelphia area, but you will find a highly trained staff in a high-tech setting.  You will be taken care of by a team of knowledgeable and concerned individuals who are focused on your needs. They are dedicated to giving you the highest level of service and care.   All of our staff members and doctors have received training from leading consultants in the orthodontic profession.  These skills are continually sharpened and updated through attendance at national orthodontic conferences as well as numerous regional and local seminars, lectures and study groups.  This continuing education is truly the cornerstone of our practice.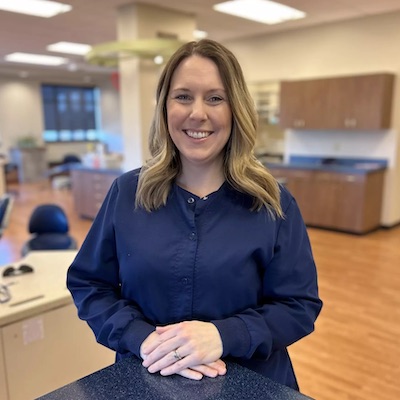 Tiffany
Treatment Coordinator
Tiffany has been an important member of Dr. McSurdy's office since 1997- as a chairside assistant for 17 years and now as a new patient coordinator.   The aspect she loves most about her job is watching kids grow into their beautiful new smiles and how it changes their self esteem.  There is nothing more rewarding than watching patients walk out of the office with great big smiles!  Tiffany resides in the Boyertown area and enjoys spending time with her husband and 2 children.  She especially loves watching her kids participate in all of their activities.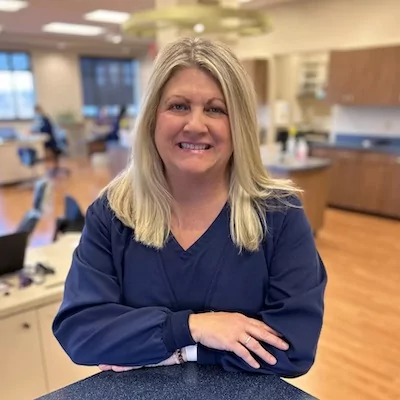 Mary
Treatment Coordinator
Mary is one of the Treatment Coordinators for Dr. McSurdy's office. She truly loves her job, the most rewarding thing is sharing in the before and after transformation of all the patients. It is awesome to share in the excitement of each patient.She has been a team member since November 1999. Her greatest joy is spending time with her family, especially her grandchildren! Mary loves the beach, bike riding and collecting sea shells.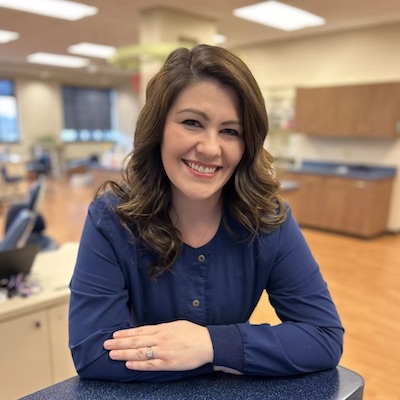 Ashley
Financial Coordinator
Ashley joined the Dr. McSurdy's office in 2014, and she is one of our smiling members of the front desk! As our Financial Coordinator she will work on your behalf to make sure your benefits are maximized. She loves greeting patients and is excited to be a part of the process of creating beautiful smiles! Ashley and her husband Lucas enjoy spending time with their 5 children (4 girls and 1 boy). They love going to the beach, watching movies, anything Disney and walking their 2 Shih Tzu puppies. Ashley and her family like to keep busy, but in her spare time Ashley likes to go shopping, do home decorating or curl up with a good book.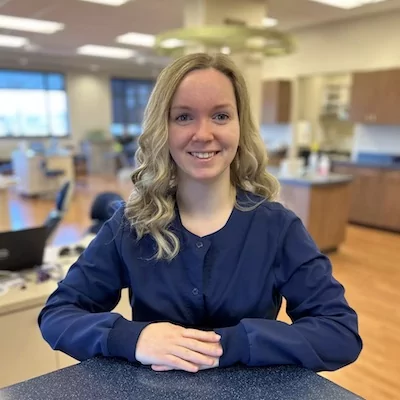 Emma
Scheduling Coordinator
Emma joined our office in November 2021 with 10 years of experience in the dental field. She loves the orthodontic world and being able to see the pure joy in patients with their newly transformed smiles! She feels lucky every day to be a part of such a hardworking and caring team! Although her baby takes up most of her spare time, she also loves cooking and spending time with her family. She lives locally with her boyfriend and two children.
Midori
Scheduling Coordinator
Midori joined Dr.McSurdy's office in August. She enjoys helping both patients and parents with their scheduling needs and watching the smile transformation take place. Midori loves seeing patients leave with a great big smile on their faces when their treatment is finished. In her free time, she loves spending time with her friends and family, especially her son Lorenzo. She also has a love for all things Disney and is a licensed cosmetologist. As a former patient of Dr.McSurdy's, she is thrilled to be a part of the team.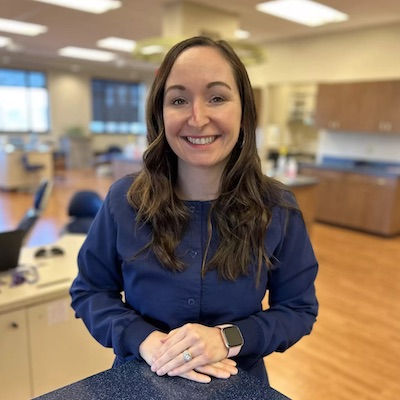 Jackie
Clinical Coordinator
Jackie has been an essential member of the Dr. McSurdy's office since 2001. In addition to chairside assisting she coordinates the online aspects of the practice including managing and updating our website and social media pages.  She loves to watch patients' progress throughout their treatment and feels it is rewarding to be a part of such a fun team!  In her spare time, Jackie enjoys spending time with her husband Jon and their two boys. She loves to travel, read, and going to the beach.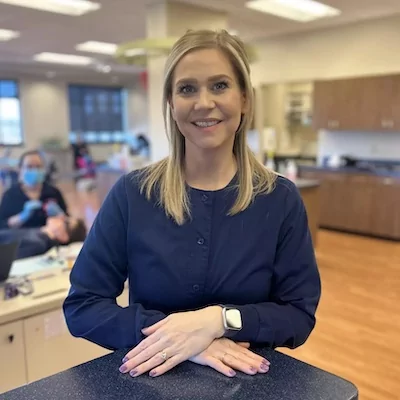 Valerie
Clinical Assistant
Valerie joined Dr.McSurdy's office in 2016 and has only been with us a short period of time but with her enthusiasm and energy, you would not know it. Valerie is a former patient of Dr.McSurdy so she loves seeing patients' progression throughout their entire treatment and understands what its like to be in the chair too! Valerie loves to travel during her free time. Her goal is to visit all the baseball stadiums throughout the country and watch the Phillies win! Valerie also loves to cook, workout, and spend time with family and friends.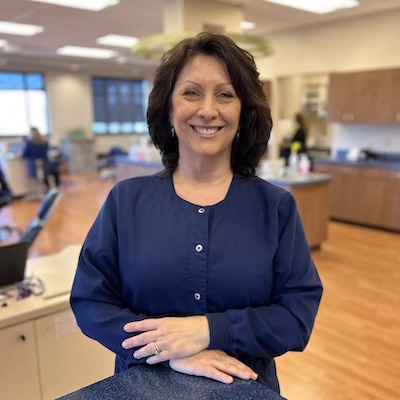 Donna
Clinical Assistant
Donna has loved being in orthodontics as a chair side assistant for 33 years, and we are thrilled that she is a member of our team!  She especially enjoys taking care of new patients, helping them through the process of getting braces, and then watching the amazing path from beginning of treatment to the final result.  She adores spending time with her 2 daughters.  Her oldest was recently married and her youngest will be graduating high school this year.  Donna is also an animal lover – she has 2 dogs and a cat!  Her hobbies include spending time outdoors going camping, hiking and kayaking.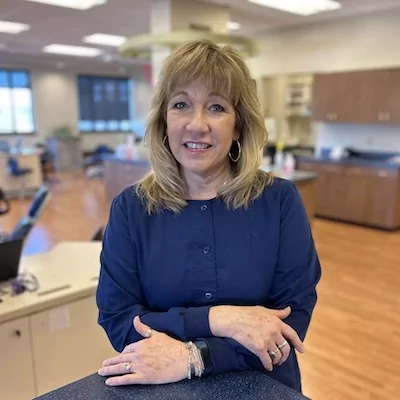 Katie
Clinical Assistant
Katie has been with the team since 2016 but comes to us with ten years in the dental field. She enjoys the aspects of orthodontics and feels that it is rewarding watching the patient's transform. Katie resides in Douglassville with her husband Steve and three grown children. In her spare time she enjoys camping, hiking, walking her dog Jazzy and spending time with friends and family.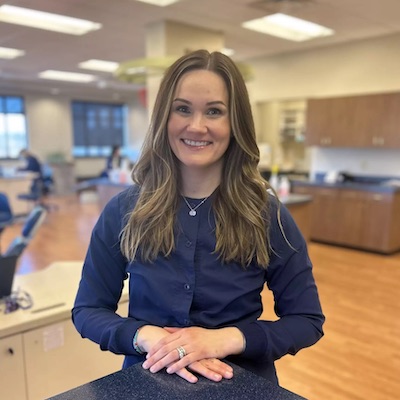 Laura
Clinical Assistant
Laura may be new to the office but has been in the dental field for 13 years! Ortho has become her passion because she loves watching the smile transitions and end results. In her spare time, she is spending time with her husband and two children. She also enjoys crafting, working out, and warm weather.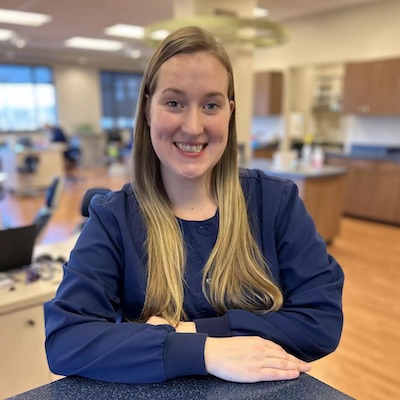 Robin
Records Technician
Robin has been with the McSurdy team since 2018. She enjoys meeting new patients and watching their smiles transform.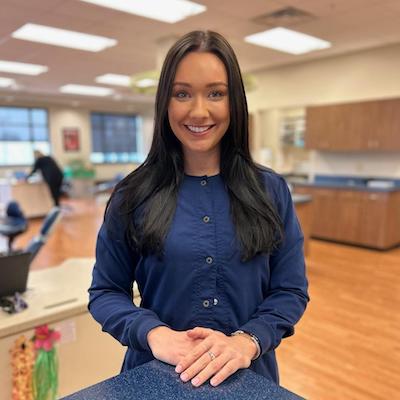 Claire
Clinical Assistant
Bio Coming Soon!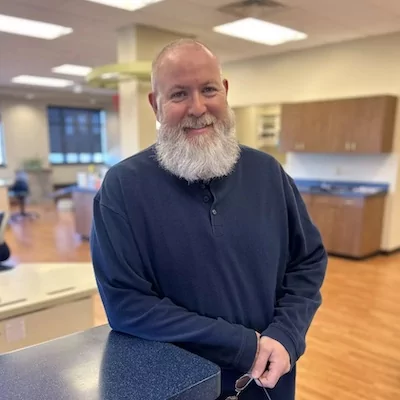 Brian
Lab Technician
Brian is the lab technician here at Dr.McSurdy's office.  He makes appliances and retainers that help Dr. McSurdy to create beautiful smiles.  He also doubles as the handyman – he's great to have around when something needs to be fixed!  Brian has been a part of our team since he graduated high school in 1993.  He lives in Birdsboro with his wife, teenage son, their German Shepherd named Sage, and a black and white cat named Moo.  Brian and his family enjoy riding motorcycles, camping, hiking, and playing games.  He loves listening to Pink Floyd, watching Star Wars, and tattoos!  You may see him around the office – he is the guy with tattoos on his arms and a smile on his face!