Pumpkin Decorating Contest:
Each team member took home a pumpkin and decorated it for an in office decorating contest. We have pumpkins in each office and we need your help to vote for your favorite pumpkin. Any person that votes will receive 5 extra points on their rewards card. Contest will run until 10/31. You can vote two ways:
In office when you come to your appointment
On our Facebook page
In Office Contest: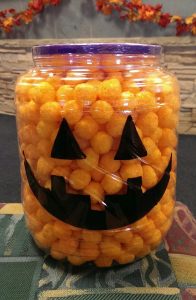 We are asking out patients to guess the number of cheese balls in the pumpkin container. The person who guesses the correct amount (without going over) will win a $25 Amazon gift card. This contest runs until 10/31.
Halloween
With Halloween around the corner we are asking all of our patients to be careful with sticky, chewy, hard and gooey candy. Hard food and or candy puts a huge amount of pressure on your braces and frequently leads to broken brackets and bent wires. Sticky candy is the #1 enemy of braces, so you'll have to stay away from caramel, gummies, taffy, and anything else that is similar. The sticky candy is very rough on your braces and they will most likely break a brace, band, or pull a wire out. Please be careful when you are out trick-or-treating and have a great time. We would love to see pictures of all of our patients in their costumes.
Reminder:
We want all of our patients to use Phos-Flur® Rinse. Which provides clinically proven fluoride protection for .  Adults and children 6 years of age and older should rinse once a day after brushing teeth with toothpaste. Vigorously swish 2 teaspoonfuls of rinse between the teeth for one minute and then spit it out.  No eating or drinking for 30 minutes after rinsing!  If your family dentist has prescribed you or your child a different fluoride product, please be sure to ask us before using both products concurrently!  Your first bottle of Phos-Flur® Rinse is complementary when starting treatment with braces.  You'll spend almost twice as much purchasing it at the local pharmacy or online! So when you run out, be sure to pick some more up at our office during your next visit.  We offer it exclusively to our patients for only $8!
Office Events:
Fall Fest Celebration
Make sure you look for us on Sunday, October 23rd from 1:00 – 3:00 p.m. for the Spring Valley YMCA's fall fest celebration.