Help Prevent White Spot Lesions on your Child's Teeth!
Phos-Flur® Rinse is specially formulated for orthodontic patients to keep the teeth healthy and help prevent white spots! The first evidence of tooth decay is known as a white spot lesion in which the tooth's enamel takes on an opaque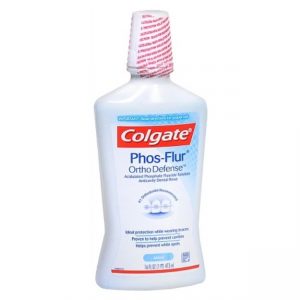 e color in the area where a cavity is beginning to form.  Sodium Fluoride, the active ingredient in Phos-Flur® Rinse, is a mineral that works by making the teeth stronger and more resistant to cavities caused by acid and bacteria.  Safe, great-tasting and easy to use, Phos-Flur® Rinse provides clinically proven fluoride protection.  Adults and children 6 years of age and older should rinse once a day after brushing teeth with toothpaste. Vigorously swish 2 teaspoonfuls of rinse between the teeth for one minute and then spit it out.  No eating or drinking for 30 minutes after rinsing!  If your family dentist has prescribed you or your child a different fluoride product, please be sure to ask us before using both products concurrently!  Your first bottle of Phos-Flur® Rinse is complementary when starting treatment with braces.  You'll spend almost twice as much purchasing it at the local pharmacy or online! So when you run out, be sure to pick some more up at our office during your next visit.  We offer it exclusively to our patients for only $8!